Name: Brownlee, Carol Gene(English)
Burial Date: 2009, 09/04
Age at Death: 87
Plot Location: 966 F
Notes: wife of George Raymond
U.S. Red Cross        War: WW2 
My mom was an amazing woman. She traveled to France near the end of WWII to work with the Red Cross and spent over a year serving the soldiers there; she taught English, Spanish, French, Latin, Humanities, Art History, and more at Sterling College; when my father died, she had five kids…4th grade through a freshman in college…and did a great job of raising them on her own; she became the academic dean at Sterling College and was a pioneer in the area of field experience credits; after she retired, she wrote at least one note a week to someone in the community, congratulating them on something they had done or encouraging them as they faced various challenges; she…well, that's probably enough. Suffice it to say, I am the person I am today because of the love, support, and dedication of my amazing mom!    Larry Brownlee
Below: Carol Gene Brownlee and Dr. Bill McCreey, Sterling College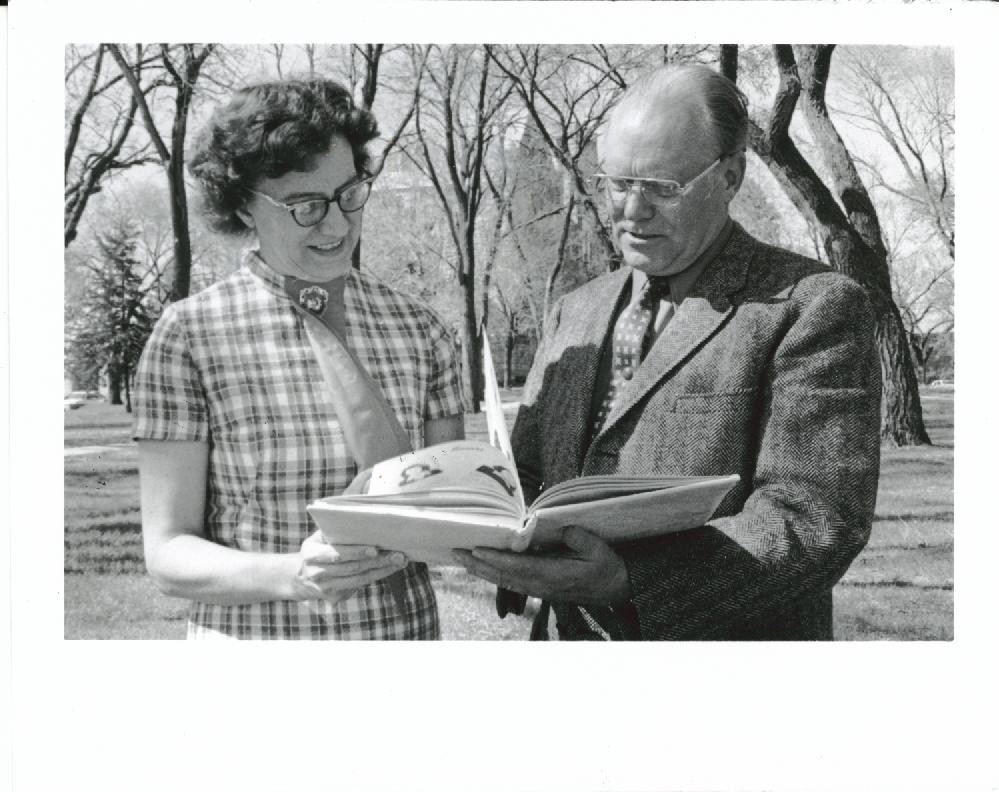 Carol Gene English-Brownlee
(2000-03-31)
Carol earned an MA in French at KU, in residence from 1942-43 and "always treasured [her] year" here. She benefited from that education in many ways, teaching school (almost 30 years at Sterling College, KS), travel in Europe on numerous occasions, and general cultural improvements. She retired in 1986 and lives in Sterling. She was stationed in France in WW II with the Red Cross, took groups of students to Europe during January terms, and traveled abroad with family and friends. She particularly remembered Professors Carman, Crumrine, and Mahieu (and yes, Carol, you had their names right).
Carol Gene was born in Salt Lake City, Utah, the daughter of Marion Leslie and Josephine Shelton English. She graduated from Dodge City High School in 1938, Sterling College in 1942, and the University of Kansas in 1943. She served with the Red Cross in France during World War II.
On March 27, 1953, she married George R. Brownlee at Sterling. He died Oct. 5, 1972.
Carol Gene dedicated much of her life to SC, serving as a professor, academic dean, publicity director, and federal grants coordinator. She was a professor emeritus of SC and wrote the words for the college's alma mater. Brownlee Plaza in front o the new library is named in honor of her husband, who served as business manager at the college before his death.
Carol Gene also was dedicated to Sterling United Presbyterian Church, serving many years on the session, and she was active and held leadership roles with the Presbyterian Church, USA. She was a former Sterling city commissioner and served on the Sterling Public Library Board. She was a member of Rice County Arts Council, Rice County Retired Teachers Association and other civic organizations. She enjoyed traveling, hiking in Colorado, watching sports, reading books, particularly mysteries, and spending time with family.
Survivors include Donna Foster and husband, Brian, Sterling; Barbara Chadwell and husband, John, Fairview; Larry Brownlee and wife, Amy, Sterling; Robert Brownlee and wife, Sonam, Kathmandu, Nepal; Phillip Brownlee and wife, Laila, Wichita; and 11 grandchildren and one great-grandchild.
She was preceded in death by her husband, her brother, William English, and sisters, Ann Preston and Mary Leta Taylor.